Annapolis, MD is one of my absolute favorite places to visit. Number one reason being that my big (big sister in my sorority) dLn (soon to be dAn!!!!) and bff/ former roomie, mSc, both live there! Number two is for the killer boutique shopping.
Ivy at Star
, owned by Kristen and Nicole, a fab mother-daughter combo, is located right in Annapolis and carries anything and everything a well dressed girl could want. From Devon Baer to Elizabeth, McKay, Sail to Sable to Gretchen Scott,
Ivy at Star
is the place to go. I love the way the boutique is set-up and all of the color!
Personally, I prefer boutique shopping. It's a more personal experience, and often, boutiques have better sales/promotions, than the online brand (a big reason to follow boutique's Facebook pages). I also prefer boutique shopping because many boutiques are able to do in-house monogramming (a huge plus in my book). Ivy at Star monograms their Sail to Sable dresses... talk about absolute perfection in dress form!
If you I don't live near one of my favorite boutiques, I am always sure to get a business card so I can order through e-mail or over the phone in the future. Below is
Ivy at Star's
info:
Nicole Tierney or Kristen Weber (owners)
410-212-3859
nicole.tierney@me.com
62 Maryland Avenue
Annapolis, MD 21401
So what do you think? Are you in love with
Ivy at Star
as much as I am?! Have a fabulous day!
Yours,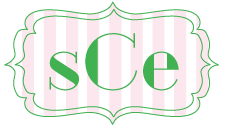 **Please note that this is NOT a sponsored post.