Something I love about blogging is connecting with others. I appreciate each and every e-mail I receive. Quite recently, I've received a large influx of e-mails and I am so grateful to have people who want to connect with me and who enjoy reading what I have to say (so bear with me as I dig through my inbox!!).
I think one of the most flattering e-mails I have ever received was a mom-to-be who e-mailed me letting me know she was going to be having a daughter (!!!) and she enjoys reading my blog. She explained how it seems as though my parents did a wonderful job of raising me. I mean quite the compliment, right? Thanks Mom and Dad!
Anyways, she wanted to know what I appreciated and remembered from my childhood that might have shaped me into the woman that I've become today so she can raise her daughter into a gracious young woman. Talk about a great question. I really thought about this one long and hard.
There are a lot of factors of raising a child, and honestly, I pretty much know nothing about that... but I do know what I loved from my childhood. The one thing that really sticks
out in my mind is having dinner with my family.
It sounds so simple and mundane but it's true. I am so lucky to have had such a wonderful childhood; of course there were ups and downs as such is life, but in my family, we always made time to have dinner together. As we got older, family dinners didn't happen every night, but it was still as often as possible.
Even to this day, at age 23, I can't begin tell you how much I love and appreciate having dinner with my family. Eating a delicious home cooked meal with people that mean the most to you...What more could you ask for? Honestly, it is something that makes me feel truly grateful about the life that I have lived thus far because I know that there are many families who don't have the luxury of having family dinners.
Now that our family is getting older, I have a full time job, cCm is away at school and life is busy and fuller than ever, we still find the time to sit down together and share a meal. It may not be each night, but we still do it as often as possible. When all of your family is in one room, it truly is one of life's greatest pleasures and that is what I think is one of my absolute favorite parts of life.
What was your favorite part of childhood? What did you love about growing up and what do you think shaped you into the person you are today? Have a fabulous day!
Yours ,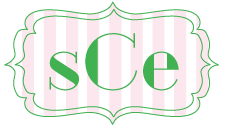 Photo here